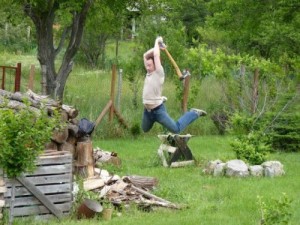 I'm glad to see he is using a proper splitting maul, I can't tell you how many axes I've gotten wedged, or ax hafts I've shattered.  invest in the right tools.  I might critique his form, bur he gets a solid ten for style.  For newbies to wood splitting here is a picture of a maul and an ax.
Mauls a fat for better splitting amazingness, while chopping axes have a narrow blade for better penetration action when felling trees.
a funny story for your reading pleasure.  I don't have a maul or wedge so while splitting wood last fall my chopping ax got lodged in a partially wet round of wood.  I figured I could use a sledgehammer to push the ax through like a wedge.  I swung and hit the mark, the ax head punched deep, but the handle didn't.  the wood handle, acting like a counter arm on a threbuchet and struck me full force in the side of the head.  I was struck hard enough that I fell to the ground dizzy and numb.  When feeling started returning to the side of my face the pain brought tears to my eyes.  Funny but true.
Jon