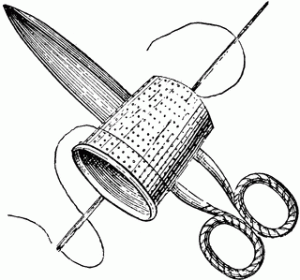 This is a quick Q&A I had with my wife Brita who is an avid seamstress.  She'd love to answer any questions you have.
Jon
Of all hobbies why did you pick up sewing?
"As an art major, I love to be creative. But as a mother, time is limited. So I sew clothes and blankets as a practical, creative release. In today's society, however, sewing has become a hobby rather than an economic way to provide clothing and linens for your family. Fabric stores charge an arm and a leg for decent fabric. I love the hunt of finding material for a good price. I never buy fabric unless it is on sale or I have a coupon. Garage sales, estate sales, and thrift stores have been good sources for finding fabric for about a dollar a yard. Sometimes I find great fabrics at WalMart in the clearance section. The only downside to getting fabric this way is not knowing what the material is made of. I have gotten fairly good at guessing, but I use a burn test in order to make sure. Your synthetic fabrics like polyester or usually burn very fast and leave plastic like beads; where fabrics made of natural fibers such as cotton, silk, wool and linen leave a fine feathery ash, or do not burn at all."
What projects have been most beneficial to you and your family?
"One of my favorite phrases is "waste not, want not". Some ways I do that are with quilts. I save almost any scrap that can be made into a quilt piece. Favorite old T-shirts can be utilized in quilts. Jean quilts are especially durable and warm. I save all our worn out jeans and then using a rotary cutter square off as much of the fabric as possible in long strips. I have seen people make squares of the pockets and other decorated parts of the jean, but I usually omit those parts as it adds to the weight of the quilt. Cutting down on weight is another reason I leave mine in long strips as opposed to making actual squares."
Are there financial perks in doing your own sewing?
"There can be financial perks if you are smart. Previously I mentioned where I look for fabric. At WalMart I found a velvet-like stretch fabric for a dollar a yard. Downtown Los Angeles, California at a fabric scrap shop I found one yard of ruffle fabric for a dollar. I used those two fabrics and lace I found on e-bay for four dollars to make my two girls' Christmas dresses this year. So I ended up with one, (well, two) of a kind dresses made for a total of about $10. I look for lace and trimmings as well as fabrics at garage sales as well as antique shops. The older lace, in my opinion, is much better than lace you can buy at conventional fabric stores, and in many cases can be much cheaper, too."
What costs are affiliated with getting started?
"The most costly part of sewing is, obviously, sewing machines. Machines can cost anywhere from $75 to $6000. Depending on how involved you are with sewing, you could get away with a cheaper machine from WalMart, but I strongly advise getting a good one if you plan on being a fairly active sewer. My machine and serger are Pfaff brand and paid about $400 each.
Sergers are WONDERFUL! You can sew without one, but if you want a professional looking finish, especially in clothes, you have to take extra time to finish all the inside seams which is a pain. Sergers make quick work of it and prevent fraying.  Then of course you want a GOOD set of scissors. Gingher is the best brand, but Fiskars is good too. I like having one large pair for cutting patterns out, and one small with a sharp, pointed end for small detail work."
What else might a person interested in entering this hobby need to know?
"Mainly, you need to have a basic knowledge of how to follow a pattern and basic sewing terms. I started sewing when I was a freshman in High School with some guidance by my mother. Then in college I took a children's clothing class. It was there that I learned small things that polished off my clothing and gave it a more professional look. Since then I have experimented with mixing and changing patterns to make what I want."