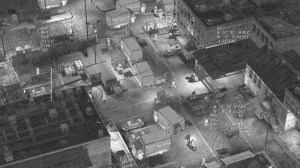 For conspiracy theorists and regular civilians alike the fear of drones is on the rise.  While US citizens have been killed overseas in drone strikes without trial, it is unlikely we'll see anything like that in the US until the matter really hits the fan.  But it is also well documented that the NSA has intentions to continue procurement and purchase of the unmanned aircraft for the sake of protecting us and monitoring us from the sky.  Some radicle articles have put the requested number to over 10,000 by 2020, but I personally think those numbers are a little high.  I also realize there is a time and place for the use and application of such unmanned vehicles: combat first and foremost, search and rescue, targeting and tracking a specific criminal on the loose, and such.
If you are thinking to yourself "I haven't done anything wrong, why should I care what they find?" then you will probably find this post meaningless.  We want privacy as US citizens, not because we are going about illegal activities, but because it is my right to wipe my back side without the government knowing and making recommendations as to the number squares and quality of toilette paper I use.  A lot of the first info will be coming out of http://thelizardfarmer.wordpress.com/, and it was one of the best sources for quality and comprehensive material.  I highly recommend you check out the material; they have some great articles.
There are a number of ways to defeat drone technology and they come down to two basic categories: Active and Passive Defense.  From http://co-ironwill.blogspot.com/:
"Passive Defense: All measures, other than active defense taken to minimize the effectiveness of hostile air platforms against friendly assets. For our purpose these measures include camouflage, concealment, deception, dispersion, and detection."
"Active Defense: Direct defensive action taken to nullify or reduce the effectiveness of hostile aerial platforms in the process of reconnaissance, surveillance, target acquisition, and coordination. For our purpose active defense includes such measures as the use of aircraft, weapons, and electronic warfare."
Before you panic and start scanning the skies look into your state and local laws.  You might be surprised how much power they still have over their own airspace.  From Wildcat84 on survivalistboards.com "FAA=owning ALL airspace is a power usurped by fiat. Though the courts back it and it's believed to exist, it doesn't, in fact, if you interpret the Constitution as written.  You might argue that the Commerce clause might give them ownership of airspace bordering states (and the national borders) but only the States could claim ownership WITHIN states.  Ergo: if your city outlaws drones in its airspace, then the Feds are prohibited as well. Local sovereignty trumps federal sovereignty because no state border is involved."
Currently civilian drone technology is almost directly in line with chasing military drone technology, so what works with the military will most likely work with civilian drones; the civilian counterparts are practically surrogates of the military versions.  Large UAVs (unmanned aerial vehicles) are unlikely to be affected by any active measures we take as they fly at far too high of an altitude; but there are many passive measures that can be taken.  Unfortunately the larger drones also deploy the more sophisticated equipment like synthetic aperture radar and other complex detection capabilities.
To identify the threat let's take a look at the most immediate characteristics we will encounter.  I'm not going to put a lot of time into larger highflying drones because let's face it, you don't have the money or tech resources to do anything about it.  Aside from some minor deviations small drones have the following operational characteristics:
Average dimensions: Wingspan: Up to 36″, Length: Up to 48″
Normal Operating Altitude: 50 to 500 feet.
Ground speed: 20 to 50 m.p.h.
Flight duration: 45 minutes to 5 hours.
Operational range from ground Station: 5 to 25km.
Sensors: Electro Optical cameras (CCTV type), may be either forward and side looking or gimbaled (on a turret).  Systems currently have the capability to use an Infrared imager.
These capabilities are important so keep them in mind.  First up is the passive defense. What are these drones going to be used for? Reconnaissance, surveillance, target acquisition, and coordination.  That means they need to see the asset they want to look at.  Very straightforward, so let's take a look at some classic passive defense systems:
"Camouflage and concealment:  Things like parking vehicle inside of outbuildings or garages, practicing basic camouflage procedures like covering windshields and other glass on vehicles, moving or conducting our activities under either cover or concealment (smaller drones suck at looking inside of dense woods),  and avoiding displaying anything that would relate any elements of EEFI to the threat.  A good rule of thumb is "Try to make any measure or activity as invisible to the ground and air as possible.  Be creative in your use of camo and concealment.  Let that grass grow over your tanglefoot – it'll be harder to spot from 500 feet in the air.  Basically what we want to do is reduce our overall signature as much as possible to include any defensive measures we've taken."
"Deception:  Deception is pretty easy and can be pretty damn effective.  That VG that uses a drone to surveil your property may be looking at your house to see where the entries and windows are.  Try adding extra fake windows and doors through some creative use of paint.  Now here's where I'm not going to concentrate on the platform but the operator and audience.  Remember: A drone is just a dumb machine with humans on the other end.  And humans look for things.  So overwhelm them – give 'em so much to look at that they can't process all of it in a timely manner or make sense of it and they become oversaturated.  At nighttime a couple of well placed IR LEDs on a timing circuit to flash (like made here) in a tree line or in windows (especially fake windows) will look similar to a muzzle flash.  Now imagine putting a couple or three dozen spread out over a square kilometer in the edge of a woodline or in an empty outbuilding (flank and attack an outhouse – boy wouldn't they feel stupid).  How the heck is the enemy supposed to coordinate a ground attack if they can't figure out what's a real muzzle flash or not?  Things like fake positions with this little beauty will not only frustrate but misdirect the VGs efforts.  Like that angle dude says – "Mind**** Them" or something like that.  You can even use 12v RV lights, etc.  You are only limited by your imagination.  Some added reading for deception techniques: FM 90-2 Battlefield Deception"
"Dispersion:  Pretty straightforward.  Don't cluster together.  If you're going to have a tribal meeting don't everyone try and park in the front door.  Quite the opposite.  Park well enough away and under cover so that the enemy doesn't see any visible indicators of a nice and juicy single basket target with a bunch of folks grabassing together or vehicles parked in a nice neat row.  Dispersion is also important for defense – it's good old fashioned common sense to disperse your defenses so the enemy can't target you in one fell swoop.  It also allows you to employ some other measures I'll go into later."
Detection:  These damn things are quiet and about the same color as the sky.  Most of them use small electric motors that us folks that have spent lifetimes around loud noises don't hear until it's too late.  But ya know what does hear them?  Dogs.  I was out at a lake on a military installation a few years ago one afternoon with HH6 and her Chihuahua and that little bastage went absolutely batshit crazy growling and pointing at something I couldn't see in the distance.  When I got the binos out of my truck I saw it – a Raven UAV way across the lake.   That Chihuahua heard that thing a good couple of kilometers away.  That's another argument for owning dogs.  There's other methods including electronic ears, etc. but if we go back to some good old fashioned pre-WWII and foxhunter tech another thing that works well is a large funnel hooked up to a stethoscope.  Check out fleabay and buy a cheap Chicom stethoscope, get yourself a good huge funnel, remove the diaphragm from the stethoscope connect the two and wala – directional sound detection like they used in the trenches back in granddaddy's day to listen for the Red Baron, IIRC I think it was called a "Phonophore".  Plus it works damn good for listening to stuff at long range on the ground.  And the damn things doesn't use CR123s or AAs. Simple, Cheap, Reliable."
That was some pretty good defense and likely information you are familiar with at least in part.  I enjoyed the authors presentation and did not want to paraphrase the information.  So now let's take a look at the active defense.  These methods are ones that will likely land you in jail so read on with that knowledge in the back of your mind.  While we may be attempting to counter drone operations we are not engaged in any kind of civil war.
"Aircraft: So do we have aircraft?  We might have some small scale RC type aircraft available but it's pretty damn hard to conduct an RC to Drone engagement and there's actually a sport where guys RC dogfight.  It takes skill because these things are small – just a bit larger than an old Cox airplane (remember those?).  But if your pockets are deep enough and you're willing to put forth the effort it's feasible.  Looking at the average flight parameters above and you need to be able to exceed that envelope – remember you have to be faster than something to catch it.   Do you want to ram it directly?  That's a pretty tall proposition unless you have a direct video link because these things are small and it's hard to line up on them.  Other options include possibly flying a couple of dozen long monofilament (fishin' line for us non-tech types) streamers from the rear of your plane hoping to tangle the prop or control surface if you can fly above it closely.  No thrust and no control = one lost drone.  Want to get really high tech?  At the end of WWII the Germans developed a system by which they would fly a rocket propelled aircraft under our B-17s at high speed.  It was too hard to try and manually shoot them down from such a fast platform so those crafty nazi bastages developed a little system by which a set of rockets were triggered by a photoelectric cell that sensed when it was out of direct sunlight.  Mounted upward and slightly forward facing in the top of those little buzzing rocket planes the pilot didn't have to trigger his weapon.  Now put together some creative thought.  Solar powered yard light with a nighttime sensor.  Electric trigger hooked to a solenoid maybe?  Ya see where I'm going?  History has given us a lot of creative little inventions that are easily replicated with technology nowadays.  Another option might be ultralight aircraft.  Relatively cheap and easy to operate (They used to not require a license) I think they more than exceed the operational envelope of drones.  If you intend to go that route do some research on early WWI aircraft vs. aircraft techniques."
I personally don't care for the aircraft to aircraft option; it's expensive on not reliable.  So here is the stuff that will really get you in trouble.
"Weapons:   It's not easy to hit a small flying target but it is possible.  You naturally want the flattest and fastest caliber you can get your hands on but remember one thing – these platforms are light (often foam and plastic) and unarmored so don't waste your 30-06 AP on them.  Even smaller calibers (i.e. .17 HMR) that are low recoil will help.  When we try to engage a low flying drone we're going to want to use the following techniques:
Mass of fires: EVERYONE fires.  Naturally the more rounds in the air with aimed fire the greater a chance of a hit.  The Army term for this is All Arms for Air Defense.
Early engagement:  We want to hit the thing as soon and as far out as possible.  The closer it gets to and the longer it loiters over our AO the more time it has to accomplish its objectives.
Established aiming points:  To deliver effective fires we need to understand where to aim at.  For slow flying platforms like drones you'll want to aim at least 1 aircraft length ahead of the flight path and for incoming drones aim slightly above the nose.  For outgoing ones aim slightly below the flight path.  The illustrations below depict aiming points."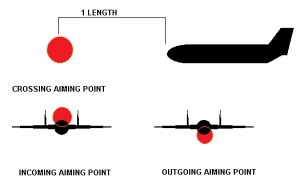 "Electronic warfare is a different animal.  Assuming that our VGs posses drones we probably must also assume they have the capability to encrypt their control and data link.  So jamming that would require some serious electronics that anything short of widespread broad frequency saturation would probably be ineffective.  But we have a few other options.  Focusing on the sensor package we look at what parts of the spectrum they use – normally everything inside of the visible spectrum plus the infrared spectrum.  So IMHO our best bet is to focus any electronic efforts on that.  Visible light can be jammed by ultra high power spotlights and possibly even lasers in both the visible and IR spectrum.  Remember that normally on the smaller drones the sensor package is in the nose so concentrate any effort on the forward lower portion of the nose.  Aligned with a decent scope and collimated at long range this could prove an effective technique as well."
What it really comes down to is an understanding of the drone type and its mission and that there are human operators on the other end. "By employing aggressive and creative passive and active defense measures you can negate their effectiveness.  When we measure the effectiveness of our capabilities remember – we don't have to necessarily destroy the platform but rather deny it the capability to complete its mission.  Use the examples and theory I've presented to think outside the box when it comes to dealing with these little buzzing menaces."
At this point I had finished reading this and other articles and was quite content with what they had in regards to smaller drones like the Raven.  I started doing a large amount of research into the larger versions and realized there was nothing in the common man's grasp to really defeat these beyond the same avoidance tools used with the smaller versions.  In the movies and in literature the smaller drones are often cited as being near silent.  In training I've seen these frequently and they are not as quite as you would think.  It sounds like an electric weed wacker in the sky and if you know where to look they can be sighted fairly easily.
As an end note I want to share some excerpts from an intercepted/discovered Al-Qaida document about UAV defeat.  Just so you know I do not support or affiliate with any terrorist organizations, and have spent time overseas as their opponent.  On the other hand, these guys have been dealing with drones since the beginning, and if anyone knows how to avoid them it should be the terrorists; so take it for what it's worth:
In comparison, the cost of 1,000 drones equals the price of an F15 Eagle jet. If we talk about the latest models, like the Predator, it costs $10 million while the cost of an F16 is $350 million and the fuel for 200 flights of a drone equals the fuel consumed by one flight of F4 Phantom jet. The training of a pilot of a Tornedo costs 1 million Pound Sterling while training a drone operator costs nothing and it takes only three months. Therefore, the Americans have chosen a comfortable war to prove to us their indifference to a long war. For this, they appointed the commander of American forces in Afghanistan (David) Petraeus as CIA director to lead the war from there and they have already tried this strategy in Waziristan that proved success and they are going to apply it now in Yemen. So what are going to do? I believe that foiling this strategy depends on three things: The formation of a public opinion to stand against the attacks, deterring of spies and tactics of deception and blurring.
These tactics are:
1 – It is possible to know the intention and the mission of the drone by using the Russian made "sky grabber" device to infiltrate the drone's waves and the frequencies. The device is available in the market for $2,595 and the one who operates it should be a computer know-how.
2 – Using devices that broadcast frequencies or pack of frequencies to disconnect the contacts and confuse the frequencies used to control the drone. The Mujahedeen have had successful experiments using the Russian-made "Racal."
3 – Spreading the reflective pieces of glass on a car or on the roof of the building.
4 – Placing a group of skilled snipers to hunt the drone, especially the reconnaissance ones because they fly low, about six kilometers or less.
5 – Jamming of and confusing of electronic communication using the ordinary water-lifting dynamo fitted with a 30-meter copper pole.
6 – Jamming of and confusing of electronic communication using old equipment and keeping them 24-hour running because of their strong frequencies and it is possible using simple ideas of deception of equipment to attract the electronic waves devices similar to that used by the Yugoslav army when they used the microwave (oven) in attracting and confusing the NATO missiles fitted with electromagnetic searching devices.
7 – Using general confusion methods and not to use permanent headquarters.
8 – Discovering the presence of a drone through well-placed reconnaissance networks and to warn all the formations to halt any movement in the area.
9 – To hide from being directly or indirectly spotted, especially at night.
10 – To hide under thick trees because they are the best cover against the planes.
11 – To stay in places unlit by the sun such as the shadows of the buildings or the trees.
12 – Maintain complete silence of all wireless contacts.
13 – Disembark of vehicles and keep away from them especially when being chased or during combat.
14 – To deceive the drone by entering places of multiple entrances and exits.
15 – Using underground shelters because the missiles fired by these planes are usually of the fragmented anti-personnel and not anti-buildings type.
16 – To avoid gathering in open areas and in urgent cases, use building of multiple doors or exits.
17 – Forming anti-spies groups to look for spies and agents.
18 – Formation of fake gatherings such as using dolls and statutes to be placed outside false ditches to mislead the enemy.
19 – When discovering that a drone is after a car, leave the car immediately and everyone should go in different direction because the planes are unable to get after everyone.
20 – Using natural barricades like forests and caves when there is an urgent need for training or gathering.
21 – In frequently targeted areas, use smoke as cover by burning tires.
22 – As for the leaders or those sought after, they should not use communications equipment because the enemy usually keeps a voice tag through which they can identify the speaking person and then locate him.
Written by Abdullah bin Mohammed
Date 15 Rajab, 1432 (Islamic calendar) corresponding to 17 June, 2011.