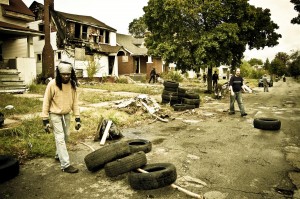 I love taking a glimpse into the possible apocalypse.  We find ourselves surrounded by cities that seem eternal, and populated regions that appear as though they will always continue to expand and grow.  What does it look like when the world we've built crumbles around us?  I want to draw your attention to a real US city, and bear in mind that many of these pictures are of structures abandoned less than a decade ago.  If you want to see how prolonged human absence continues to influence developed areas multiple decades later look into some of the formerly populated areas around the Chernobyl catastrophe.  I drew these pictures from quite a few websites after a news article caught my eye some months ago, and the references are listed below, but you can find them and more with any simple internet search.
The Detroit area emerged as a significant metropolitan region within the United States as construction of a regional freeway system was completed in the 1950s and 1960s.  Between 2000 and 2010 the city's population fell by 25 percent, changing its ranking from the nation's 10th largest city to 18th. In 2010, the city had a population of 713,777, more than a 60 percent drop down from a peak population of over 1.8 million at the 1950 census, indicating a serious and long-running decline of Detroit's economic strength.  The state governor declared a financial emergency in March 2013, appointing an emergency manager. On July 18, 2013, Detroit filed the largest municipal bankruptcy case in U.S. history.  The ongoing decline has left its mark on the city, most notably in severe urban decay and thousands of empty homes, apartment buildings and commercial buildings around the city. Some parts of Detroit are sparsely populated resulting in the city having difficulty providing municipal services. The city has sought and considered various solutions such as demolition of abandoned homes and buildings; removal of street lighting from large portions of the city; and encouraging the small population in certain areas to move to more populated locations as there may not be a quick response for city services such as police in depopulated areas.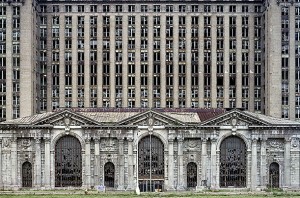 Michigan Central Station, Detroit's main train station, opened in 1913, has not been used since 1988.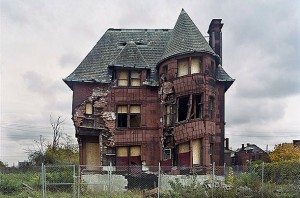 William Livingstone House, Constructed in 1893 in the once elegant Brush Park neighborhood, this home, designed by architect Albert Kahn, was moved from its original location several years ago by preservationists who hoped to maintain it. It was demolished last year.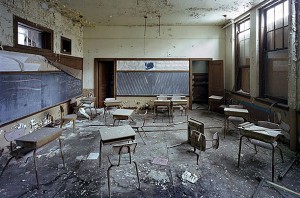 St. Margaret Mary School, Many of the city's Catholic schools have been closed, though the churches they are affiliated with remain active.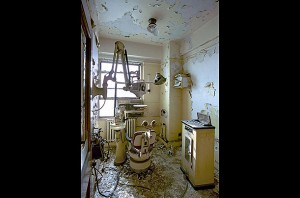 David Broderick Tower, One of the city's most prominent skyscrapers, this 35-story tower once housed the offices of many doctors, lawyers and dentists. It has been virtually empty since the 1980s. Developers hope to convert the building to residential units by 2010.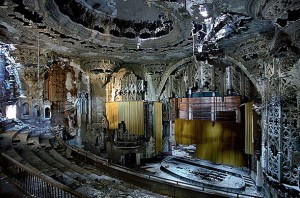 United Artists Theater, This spectacular Spanish Gothic theater, built in 1928, was closed in the 1970s.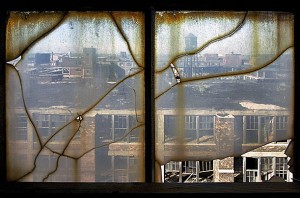 Packard Plant, Luxury-auto maker Packard produced its last car here in 1956.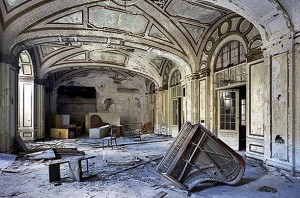 Lee Plaza Hotel, Once one of the most luxurious residential hotels in Detroit, Lee Plaza closed in the 1990s.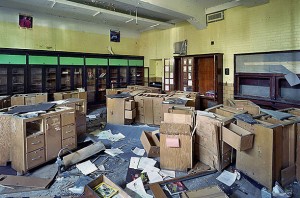 Wilbur Wright School, This public school closed in 2005.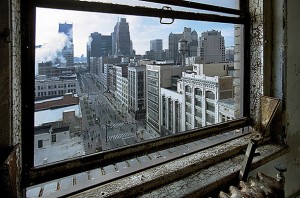 Remains of a City, On their website, the photographers write, "Ruins are the visible symbols and landmarks of our societies and their changes … the volatile result of the change of eras and the fall of empires. This fragility leads us to watch them one very last time: to be dismayed, or to admire, it makes us wonder about the permanence of things."
http://content.time.com/time/photogallery/0,29307,1882089,00.html#ixzz2viFLiRZp
http://galaktika.hu/egy-varos-apokalipszise-a-mi-jovonk-detroit-kepekben/
http://www.huffingtonpost.com/kisa-lala/detroit-the-ruins-of-an-e_b_810688.html
http://www.ufunk.net/en/photos/detroit-en-ruine-le-declin-dune-grande-ville-americaine/
http://www.ijreview.com/wp-content/uploads/2013/07/the-ruins-of-detroit-11.jpg
http://politicalpistachio.blogspot.com/2010/11/liberalism-is-more-destructive-than.html
http://weburbanist.com/2012/06/20/grandeur-lost-the-modern-ruins-of-abandoned-detroit/
http://en.wikipedia.org/wiki/Detroit