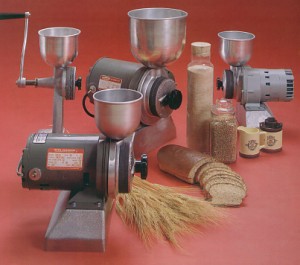 Here is an interesting factoid that I took from Whole Grains Council the other day: if you store a grain in its intact and unground version you are going to get twice the storage lifespan as compared to ground flours.  This is the reason that many of us, myself included, have a preference for purchasing the material that is going to last longer; we want something we can throw in the back of a pantry and then forget about it, knowing it will be there in an emergency.  Double the life span sounds like a great deal till we actually have to use those buckets of grain in the basement.
I look at this with an air of emergency preparedness and so I anticipate things that others shooting simply for sustainable living probably aren't concerned with. So what are the options when it comes time to needing to use the grains?  Without power and preparation there are two old options, but I wouldn't recommend them as the powdered and pulverized stone will speed decay on your teeth when it mixes and gets baked in with the flower; but if you have nothing else, what the hell right?
When we were young my father was one to dig in a go self-sufficient; with little consideration to effort and time.  In this way we ended up with a little emergency wheat grinder that screwed onto the edge of a table so that we could grind our own wheat; we also didn't have a lot of money so I assume it was a money saving effort.  While it was a good workout, it was not practical for grinding wheat and other cereals for a family of eight children and two parents.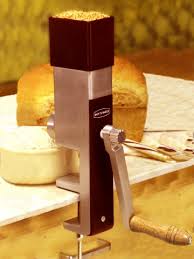 In a recent visit to a local survival store I took the opportunity to speak with the owner about a variety of products that they carried.  He said that when it came to grinders you generally got what you paid for; a $450 product is going to give you $450 worth of performance, a $50 product is going to give you the equivalent in performance.  If you are single, a $50 dollar grinder might work, but not for the rest of us who have families.  When you start looking at survival grinders that are US made and built to last anticipate appending $200 to $500.
Another thing to consider is your electric availability.  The owner told me that while many of the electric products he carried outperformed the hand operated ones and offered more variety in how refined a person is making their flours; the majority of his customers wanted a product that would not just be useful for a healthy living but also useful in an emergency where power availability might not be a constant; so I guess I'm not the only who thinks that way.
If you search online you can find some pretty clever stuff, for example some people have actually used the gears and chain of bicycles to turn the stones and mechanisms in a grinder.  I don't have a particular brand of grinder that I recommend; but make sure you check out the reviews.  Below are some things that others have had to say, and I felt they were worth sharing.
Jon
From Mel's Kitchen Café Why do I grind my own wheat instead of just buying wheat flour at the store?:
1) I Stay In Control: I can control the type of wheat I use (many wheat flours at the store are derived from red wheat berries and I prefer a mix of red and white wheat or white wheat on its own), I can control the fineness and/or coarseness of the flour and with my wheat grinder, I can grind it much finer than the wheat flour from the store, I can control when I grind it which means by grinding and using immediately (or freezing), the wheat hasn't lost any nutritional value (once the wheat berry is ground it is subject to oxidation which causes it to gradually lose nutritional value so freshly ground wheat is more nutritious than wheat flour that's been on the shelves for a month).
2) It's Cheaper: because I can buy wheat berries in bulk (see here for sources), I can grind my own wheat flour much more cost-effectively than buying already ground wheat flour.
3) It's Not Just About Flour: Using wheat berries and a grinder, I can not only grind flour, but I can also make cracked wheat and grind a variety of other grains/seeds (I'll talk about that in more detail below).
4) It Keeps Me Safe: Despite what natural disaster and emergency may occur (I'm talking even the loss of a job or financial difficulty), I know that I have 100 pounds of wheat ready to grind for a variety of foods that could help sustain our family. We've gone through "lean" months/years before and our wheat and other food storage has been a huge blessing and sometimes nothing short of a miracle.
5) It's Healthy: Because I have a wheat grinder sitting on my kitchen counter and a bunch of wheat berries ready to be ground, I naturally use whole grains in most of my baking, making our bread and throwing it into cookies and other baked goods and breakfast foods willy nilly. Because I can. And eating a whole wheat chocolate chip cookie somehow feels a little healthier. Don't burst my bubble, please.
From Everything Kitchens What to Know before Purchasing a Grain Mill/Flour Mill concerning some of the products they carry and what their customers have thought:
Electric Grain Mills
Blendtec Grain Mill
The Blendtec Grain Mill is one of the best buys for the money. Priced modestly, this grain mill has an adjustable grind setting capable of grinding flour from coarse to very-fine—plenty fine for bread. This model grinds grain quickly and has a 24-cup flour pan. The drawbacks are that it is very loud, and will not grind grains coarsely enough for cereals, cornmeal, or other foods requiring a very-coarse consistency. Also be advised that this mill has no option for manual operation.
This Blendtec Grain Mill will grind nearly all non-oily grains. This mill itself has stainless-steel grinding blades: a health advantage over stone grinding burrs, which are usually bound with aluminum oxide. If you want fine flour for breads, and want it for a decent price, and need to grind a lot of flour without emptying the pan, this is a good option.
Wonder Mill
The Wonder Mill Grain Mill (formerly the Whisper Mill) is priced a little higher than the Blendtec above. However, the Wonder Mill has a noise advantage over the Blendtec—still an impact-chamber mill, the Wonder Mill generates quite a bit of noise, but it isn't as noisy as the Blendtec. The grinding consistency is adjustable, ranging from fine to coarse flour yields, but will not accommodate very-coarse types like corn grits and bulgur wheat. This model will have no trouble with most non-oily grains.
The Wonder Mill Grain Mill has no option for manual operation, and can only grind 12 cups at once. This unit has stainless-steel grinding blades and a self-cleaning milling chamber. We recommend this one for people with respiratory problems, as this unit leaves less flour dust in the air than most other electric mills. If you like the features of the Blendtec Wheat Mill above, but are willing to pay a little more to save your ears and your lungs, the Wonder Mill might be for you.
L'Equip Nutrimill
The Nutrimill Wheat Grinder from L'Equip is our premium electric grain mill. With its higher price tag, this flour mill can handle the very-coarse grinds the above two cannot, producing flour ranging from cornmeal consistency to very-fine bread flour. The Nutrimill also matches the Wonder Mill at operation noise. This mill is equipped to handle most non-oily grains, but just as the other two above, a manual option is not available (yet).
The Nutrimill Wheat Grinder's 22-cup capacity nearly matches that of the Blendtec model. Other features include stainless-steel grinding blades and a self-cleaning milling chamber. The Nutrimill expertly blends the best elements of the above two models in a single, attractive package. We consider this mill to be the best buy if (big "if") you need the large capacity, wide grinding range, and reduced operation noise.
Family Grain Mill
The Messerschmidt Family Grain Mill is modular and may be used with or without a motor for manual or electric operation. Scroll down for more information.
Manual Grain Mills
Country Living Mill
The Country Living Grain Mill is perhaps the highest-quality manual grain mill on the market today. And if properly cared for, this mill could be passed down and enjoyed for generations to come. This manual flour mill uses stainless-steel grinding burrs and has an adjustable grinding range, from bread flour to as-coarse-as-it-desired. But however fine the bread flour may be, be advised a manual mill will not produce flour as fine as an electric mill. The Country Living Mill is no exception to this rule.
The Country Living Flour Mill can even be motorized through 1) a standard washer/dryer motor, or 2) a specialty motor sold by the manufacturer. However, this method is costly, and Everything Kitchens would sooner advise the purchase of one of the electric units above if finer flour is needed. If you so choose this route, however, the Country Living unit does include instructions for electric operation.
Of course, the big drawback to manual mills is that many people don't like to grind grain by hand: this method requires about 2–3 minutes of tiring labor per cup of flour. However, this is part-and-parcel to manual grain mill operation, and in the Country Living mill's defense, it is quite a bit faster than many manuals on the market. Our bottom line: if you enjoy manual grain mill processing and want the best there is to offer, and you have the budget for it, this mill is perfect for you. The Country Living is built to last, and is sure to provide your family with Old-World charm for generations to come.
Family Grain Mill
The Messerschmidt Family Grain Mill is not quite as high-quality as the Country Living above, though it is still a very well-built mill, and has some clear advantages over the Country Living unit: for starters, our customers tell us the Messerschmidt is the easiest-to-crank manual mill they have ever tried. The Family Grain Mill is easy enough for a child to use, with a flour output that matches that of the Country Living mill: one cup per 2–3 minutes of grinding, and this is accomplished with much less effort.
The Family Grain Mill is also the clear winner in terms of price and we are proud to offer this item and more here at Everything Kitchens. This mill is modular and is very easy to motorize by way of special attachments: these include a hand-crank base, a motorized base, grain mill attachment, flaker mill attachment, and an array of other food-processing attachments, all of which twist on with a snap to either the manual or electric grain mill base. Bonus: all the above attachments will fit onto the Bosch Bread Mixer with an adaptor (sold separately), which could save you a ton of money if you are already a Bosch owner.
Despite its versatility and attractive features, the Messerschmidt Family Grain Mill does not grind as finely as the Country Living Mill, and certainly not as fine as our electrics. Even still, the flour is acceptable for breadmaking, though not recommended for pastry. Our Verdict: the Family Grain Mill is ideal for anyone wanting an affordable, flexible, and easy-to-use manual grain mill.