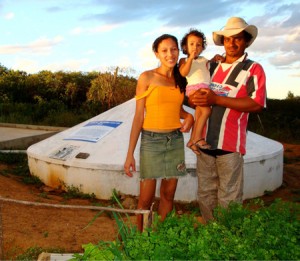 I got interested in cisterns as a modern survival and sustainable idea while reading the book Patriots by James Wesley Rawles.  In the book, at the wilderness home of the main characters; a well is dug on a hill side with a wind turbine continually drawling a moderate flow of water that slowly fills a cistern; water for the home is drawn out of this water source up the hill side, and it has the overflow piped down to the garden area.  The word cistern comes from the Latin word cisterna, from cista, "box".  By definition a cistern is a waterproof receptacle for holding liquids; typically water.  Cisterns are usually built from scratch and often built to collect rainwater.  Cisterns are differentiated from wells by their water proof nature and linings.  Modern cisterns range from a few liters to thousands of cubic meters, essentially forming covered reservoirs.
Historically cisterns go back as far as the Neolithic (new stone age) era where sites such as Ramad and Lebwe feature homes with lime plastered water proof cisterns in their floors.  This was highly necessary for water management in communities that utilized dry-land farming techniques.  To date cisterns are used frequently in areas where water is scars, due to rarity or depletion from heavy use.  Early on water was used for many purposes including cooking, irrigation, and washing.  Present day cisterns are often used purely for irrigation due to concerns with water quality; although they can be outfitted with filters or other water purification methods for human consumption.  Cisterns still rely heavily on the ability to catch rain; and have to be sealed to prevent algae growth and mosquitoes and similar creatures attracted to water out, as these can carry diseases and illness to humans.
Some cisterns sit on the top of houses or on the ground higher than the house, and supply the running water needs for the house. They are often supplied not by rainwater harvesting, but by wells with electric pumps, or are filled by manual labor or by truck delivery. Very common throughout Brazil, for instance, they were traditionally made of concrete walls (much like the houses, themselves), with a similar concrete top (about 5 cm thick), with a piece that can come out for water filling and be re-inserted to keep out debris and insects. Modern cisterns are manufactured of plastic (in Brazil with a characteristic bright blue color, round, in capacities of about 10 000 and 50 000 liters). These cisterns differ from water tanks in the sense that they are not completely enclosed and sealed with one form, rather they have a lid made of the same material as the cistern, which is removable by the user.
While ultra clean water is not that big of a deal if you are using it for gardening; it should still be kept clean.  Occasionally empty and clean the cistern; and have it inspected regularly if it is being used for human consumption, even if it is being filtered in house.  If the cistern is supplied by a well, the well water should also be checked periodically; although I know of very few wells that have had issues, so long as they are properly enclosed and sealed off from foreign contaminants.  If you sense any issues at any point from source to tap then use of the water for drinking and cooking should be discontinued until the system has been inspected and any problems have been rectified. Cisterns can be used for everything you already use water for in your home, and non-acceptable water can still be used for gardening and irrigation.
Many greenhouses use cisterns to help meet their water needs, especially in the USA. Some countries or regions, such as Bermuda and the U.S. Virgin Islands, have laws that require rainwater harvesting systems to be built alongside any new construction, and cisterns can be used in these cases. Other countries, such as Japan, Germany and Spain, also offer financial incentives or tax credit for installing cisterns. Cisterns may also be used to store water for firefighting in areas where there is an inadequate water supply.
If you are interested then do a little research and feel free to share pointers that you learn.  If you already have a cistern, regardless of size, please share what went well and what you had issues with.
Jon