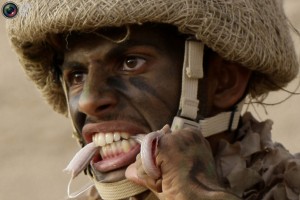 Short answer, yes; cut off the head.  Long answer…yes, but read a little more.
Have you ever eaten snakes?  I have, there not to bad; I'm amazed at how much lizards, snakes, and other reptiles (and some amphibians) really do taste like chicken.  I had never eating flesh from a poisonous snake so I got curious and had to do a little research.  I know that the toxins in a frog are in the skin and thus if skinned properly a poisonous frog can be eaten if skinned properly, but what about snake venom.
The first thing I learned from my research is that venom and poison are not synonyms.  Venoms are noxious compounds that are typically manufactured by the creature, itself, as opposed to poisons, which are most commonly sequestered from prey items (often from creatures near the bottom of the food chain, such as bacteria, beetles, and mushrooms).  Most venoms have evolved primarily for offensive purposes (for use against prey) and only secondarily for defense (for use against predators), whereas poisons have evolved simply for defense (and are not used in the acquisition of prey). This approaches the nature of the toxins, themselves. (http://christopherjrex.hubpages.com/hub/What-is-snake-venom-poison)
venoms are toxic compounds designed to be introduced into the body tissues and circulatory/lymphatic systems of the prey or potential predator, meaning that in most cases, ingestion of such compounds would likely yield the complete breakdown of said toxins, resulting in minimal harm to the individual that consumed them (assuming there were no "leaks" in the digestive system of that individual). Poisons are toxins specifically designed to be delivered into potential predators by way of ingestion or absorption (through the stomach, skin, mucous membranes, etc.), but are just as stable and dangerous if they are somehow injected into the flesh of a creature. Whereas venoms are localized in a compartment and are dependent upon complex physical mechanisms for injecting the toxins, poisons are commonly distributed throughout the skin and body tissues of the animal (typically with parts of the body storing differential amounts of toxins) . (http://christopherjrex.hubpages.com/hub/What-is-snake-venom-poison)
Fortunately for us most snakes are either venomous or poisonous, and some rare cases where a snake is both.  Certain species (and populations) of Garter Snakes (Genus Thamnophis, species sirtalis, couchii, and atratus) and one of their cousins (Tiger Keelback Snake, Rhabdophis tigrinus) are both venomous AND poisonous.
Snake venom is a highly modified saliva containing zootoxins that facilitates the immobilization and digestion of prey, and defends against a threat.  It is injected by unique fangs after a bite but some species are also able to spit.
The glands that secrete the zootoxins are a modification of the parotid salivary gland found in other vertebrates and are usually situated on each side of the head, below and behind the eye and encapsulated in a muscular sheath. The glands have large alveoli in which the synthesized venom is stored before being conveyed by a duct to the base of channeled or tubular fangs through which it is ejected.
To put it simply, the glands that produce toxins (venom and poison) are typically located in the head behind the eyes, and occasionally extend slightly into the neck.  In other words, cut off the head and a bit; and you are good to go.  So now that you know that go forth and eat like an operator.  Gut it, skin it, roast it over a fire and enjoy the flavor.
As snake meat is not often sold commercially in the United States, it does not have particular, rigid health standards that other meats do. Rattlesnake meat is often sold from "Rattlesnake Roundups," which are similar in atmosphere to rodeos and have been accused of low standards of food preparation. This is of particular concern as rattlesnake meat in South America has been linked several times with severe strains of salmonella, which grows in the snake's gut. This bacteria is neutralized by proper handling and by cooking. Snakes, like other animals, may also contain parasites and other infections that can be transmitted to humans, which can also be neutralized by proper handling, freezing, and thorough cooking. Snake venom must enter the blood stream to pose any danger to people, so there are no concerns about poisoning from eating most snakes.
Snake meat is relatively low in fat and calories, high in protein and some consider it a rising star in the food industry. However, like any type of meat, it should be prepared and cooked carefully to ensure it does not result in infection or food poisoning. (http://www.fitday.com/fitness-articles/nutrition/healthy-eating/the-nutrition-of-snake.html#b)
Jon