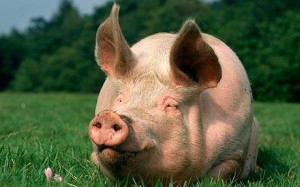 Growing up we raised pigs.  Or rather I should say we bought piglets from a local farmer yearly and then grew them up for butchering.  If you are worried about Wilber syndrome, don't.  Those cute little piglets grow into ornery big pigs that can be grumpy and aggressive.  You will find it's that way with many of the farm animals you might be raising for meat.  We typically butchered early spring born animals that same fall as the weather started getting cold.
When you start building the pig pen you need to take into account three things for the sake of the pigs: shelter from the sun or snow, secure anchored fence, and running space.  Human considerations are the stink.  Every year we had pigs the pen was moved further and further away from our house.  My father said he did this so the pigs didn't pick up any bacteria or bugs from the previous year's inhabitants; but I think it was largely so he didn't have to smell them.  The fence had to be repaired every year so we just dis-mantled and re-mantled it on the new location farther from the house.
If they are small and it is spring them make sure your piglets have a good bed of hey to burrow into.  During summer pigs need a shady cool place to chill while the sun is at its peak, as they tend to burn their pink skin pretty easily; and that should be saved for the frying pan.  A shelter can be as simple as a sheet of corrugated steel with a single or two walls.  The shelter doesn't need to be more than four feet high.  The open walls allow a breeze in, and the heat to escape, during the hotter months of the year.
Early on my family learned that pigs love rooting in the dirt and love digging out a good mud buddle for hot days.  In this was they have a tendency to dislodge the base of your pen and you will find yourself continually packing hol.es with big rocks if you don't build a pen correctly the first time.  Eventually we found it effective to have our sturdy upright posts and railroad ties sunk horizontally along the base of the pen.  In this was we secured the fence to the uprights and to the base.  We also strung the fence up on the inside of the uprights as pigs love leaning up against and pushing against the fence.  You don't need anything real special for fencing, so long as the holes are small and it has some substance to it; for example, while chicken fencing has small holes, it isn't going to stop your animals as they get larger.
Most persons build their pig pens twice as long as they do wide so they can separate their eating areas (where they tend to defecate) with their water and shelter.  We had a half of a 55 gallon barrel that sat above ground anchored to a few railroad ties so the pigs wouldn't tip it over, where both buckets of water and food were dumped and our pigs always did just fine.  A single pig can drink 2-4 gallons of water a day when the weather is warm so keep them well hydrated.  Most pig farmers recommend 50 sq. feet of running space for each pig to give them healthy exercise.
You don't have to be choosy in what you feed a pig as they will eat anything.  But bear in mind you will be eating that animal later so it is worth giving them a halfway rounded diet.  Because we had a dairy cow and made cheese and butter we always had left over dairy products that our pigs went ape over.  A 50 lb piglet can grow to 250 lbs in just a hundred days when fed well.
When it's hot give your pigs a mud wallow and use your hose to fill up their hole and cool them off.  You don't have to build a mud wallow, just keep the ground wet and they will do it themselves.  The mud keeps their skin in good condition and helps prevent lice.
The manure can be used to fertilize your crops, but we typically left the waste to chill out for a year before adding it to our crops.  A hundred pound pig will give you a pound in a half of crap a day.
Mud also helps reduce the risk of pigs getting lice, allows them to root (dig up the ground–something they really enjoy doing) and keeps their skin in good condition.  However some farmers recommend giving your pigs de-worming pills at regular intervals, as they love to root around in muck and filth.  I think our regular moving of the pen is why we never had problems with worms and parasites.
Jon