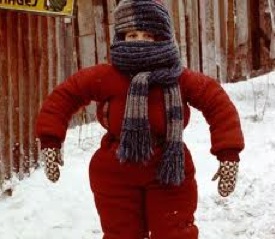 If you are affiliated with the military, especially the army, then you know we've drifted away from the classic field jacket and liner to the new multi-layer (feels like 15) cold weather system. And there are some guys out there don't know why it is advantageous to wear layers verses a big single massive jacket. The same as in why do two thinner sleeping bags doubled up typically work better than a single beefy sleeping bag.
Advantages are that we can break it down and wear individual parts depending on the weather situation and our activities. Layers can be added as the weather gets colder and removed when it warms up or you are participating in physical activities; you want to avoid as much sweating as possible as it can chill you later when you are less active or the temperature starts dropping.
In your cold weather clothing system; be it premade or put together by yourself, each layer will have a function. The base layer, the insulating layer, and the outer layer. You can also have multiple layers that fall under any basic category.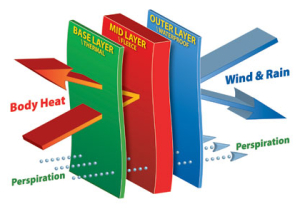 The Base Layer:
This is the layer next to your skin and is responsible for moisture management. Moving moisture in the form of perspiration away from your skin helps regulate body temperature. Keeping dry can help you stay cool in the summer and avoid hypothermia in the winter. Cotton is a fabric that retains water and can you've you chilled.
My preference is wool; although many prefer synthetic fabrics that transport, or wick, the moisture away from your body. The result is that the perspiration drifts out and evaporates. If you've read my article on wool then you know that (minus the molecular and chemical jargon) wool breaks down the moisture into hydrogen and oxygen and the process generates heat. Not only do you lose the moisture but the wool warms during the process.
A base layer is anything from briefs and sports bras to long underwear sets to tights and t-shirts. The base layer can fit snugly or loose. Base layers can be found and purchased in light, mid, and heavy weights depending the environment you will be in.
The Middle Layer:
The middle layer is your insulating layer and helps you retain heat by trapping air close to your body. Cold weather systems are more complex than this, but let's take a quick look at how insulation works. Air is a poor conductor of heat; which all our bodies generate. When air is trapped in hollow areas it is an excellent insulator which is why material like Styrofoam are often used in coolers to retard the flow of heat seeping inside. Layers often act the same way as they trap pockets of air between layers and further retard the progression of losing heat faster than our bodies can generate it.
Here again wool is a great natural insulator as is goose down. The down is preferred as it gives you the best weight to warmth ratio but loses most of its insulating qualities when it gets wet. Fleece is also a great insulating layer although it is permeable by wind and can be bulky.
The Shell Layer:
This will be your weather protection layer. This is the layer that will protect you from the wind, rain, and snow. Most shells or outer jackets are treated to be water resistant and allow at least some moisture to escape. Water should bead up and roll off this fabric if it is fulfilling its purpose.
This is an important layer because if water soaks through your clothing you are hosed. And without proper ventilation moisture cannot escape and will condense inside your shell. Also make sure your shell fits loosely enough around your other layers so as not to restrict movement.
Shells aren't always designed to keep you warm and can be as thin as a poncho; even when designed as part of a cold weather system. There are many types of shells such as waterproof/breathable, water-resistant/breathable, soft shells, waterproof/non-breathable, and insulated shells; so do some research and find out what will suit your operational environment best.
Additional thought:
Consider a similar system for your sleeping bag. Tow inner layers and an outer gortex shell. This is what modern military types use now when they are in the field and they work great (google army modular sleep system).
Jon