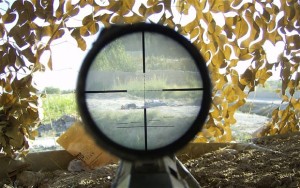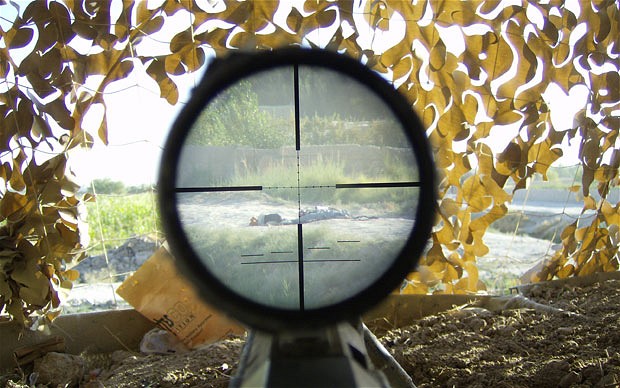 I found this great article the other day and wanted to share it.  Here is the link to the original article: http://hoplofile.blogspot.com/2006/02/how-much-magnification-do-i-need.html.  No changes have been made to the content.
Jon
FEBRUARY 28, 2006
How much magnification do I need?
That is a question many people ask when searching for a scope. Everyone has an opinion, and this is mine. Let me start off by saying that everyone is different, has different skill levels, different vision, and different applications. So what works for one person, might not work for another. However, there are some fundamentals that do not change regardless of personal preference or ability. Let me also say that I'm not a professional of any kind in any field that requires the use of firearms. Personally, I like to tailor my equipment, optics and firearms towards the purpose of self-defense/anti-personnel. So I'll be using examples that focus on that. Lastly, being that I outfit my rifles for a defensive role, any optics used must have the best field of view (FOV) possible. Everything below considers this important factor.
First, some basics:
Magnification is the ratio of the size of an image to the size of an object. Looking at a man 100 yards away with 1x of magnification will be the same as looking at a man 100 yards away with no magnification, or simply put, with the naked eye. Looking at a man at 100 yards using 2x magnification will make the man appear to be 50 yards away. He will look "2 times" closer. 3x magnification will make him appear to be 33.3 yards away.
You take whatever the distance is, divide it by the magnification used, and you've got the distance at which that object appears to be under that magnification. Simple huh?
Here's an example. Pictured below is the size of a man viewed with the naked eye at a given range. When 4x is applied, he appears larger, with 8x even more so. Note that the red colored chevron reticle stays the same size regardless of the magnification used. The vast majority of variable-power scopes have a non-magnifying reticle, so the reticle remains constant. With fixed-power scopes, this is not an issue. However, given the choice between a fixed 4x or fixed 8x, there will still be a difference in the size of the objects you can view with each, as well as the amount of FOV each has.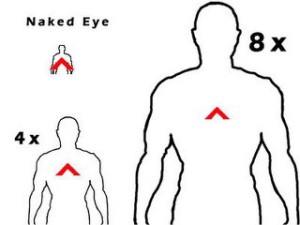 Using magnification helps you to view things further away than you could without magnification. Pictured below are two human shaped targets that appear to be exactly the same size. One is viewed to be that size using the naked eye at 100 yards. The other is that very same size through your view using 4x, but is really at 400 yards. The 4x magnification has brought the target four times closer so that it appears the same size as the other target which is 100 yards away using the naked eye.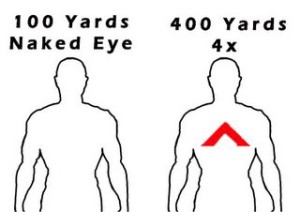 What are you going to be shooting at?
The very first thing you should do is determine what you'll be doing with an optic. Are you going to shoot varmints? Deer? Is it a defensive rifle that, should the situation ever arise, need to shoot humans with? There are many optics out there specialized for specific purposes, while others are general all-purpose optics. Then there's everything in between. What you plan on shooting has a bearing on what type of optic you choose, and what its characteristics will be.
How much zoom do I need?
Let's assume that I want a defensive rifle, like something useful for a SHTF scenario. My target zone will be somewhere around the size of a human torso. Let's say 12"x24". To determine what I'll need as a minimum, I'll need to find out what is most suitable for my vision, capability, and comfort. Using the naked eye, I'll determine how far away I can see my target. Being that my target is 12"x24", how far away can I see this target before it becomes difficult to distinguish it from its surroundings? I believe that if I can see it, I can hit it. Might not be easy, but it is possible. If I cannot see it, you cannot hit it. That's the basic principle behind this idea. There are other things to consider too. For example, just because I can see this target as a tiny spec through my view, doesn't mean it is easy to visually place a reticle onto this spot. Having a little bit more magnification may aid in being able to relate the crosshair to the target better. Considering all of this, I have to decide with the naked eye at what distance the target becomes too difficult to see or target.
Here's an example:
Say that the 12"x24" target zone becomes too difficult for me to see, or pinpoint with an imaginary reticle, past 150 yards. 150 yards is our magic number. Now, take 150 yards and multiply it by the magnification used.
150 x 2 = 300
150 x 3 = 450
150 x 4 = 600
150 x 8 = 1,200
As you can see, a 12"x24" target 1,200 yards out, being viewed through as scope with 8x magnification will appear to me to be 150 yards away. The same as if I was viewing it with the naked eye. The further out the target, the more magnification I would need to bring it to a size that I'm comfortable working with. That size is the size of the 12"x24" target at 150 yards using my plain vision.
Time for application:
Say I've set up a semi-automatic rifle, like an MIA, to become my "designated marksman" rifle for defensive use. A rifle I can shoot quickly with at medium range allowing me the ability to engage targets further than I could with an iron-sighted weapon. My primary targets are human beings. Unlike most animals, humans can pose a threat even when a few hundred yards away. There's one major factor at work here. What is the furthest distance I expect to engage my target reliably?
Just for example, I'll say that my goal is to be able to engage these targets out to 600 yards maximum. 600 / 150 = 4. A target at 600 yards, used with 4x magnification, will appear to be 150 yards away. 150 yards is the maximum distance I can handle based on the previous section. When shooting targets at 400 yards, they will appear to be 100 yards away through a scope with 4x magnification. Shooting at a target 200 yards away with 4x will appear to be 50 yards away. As a minimum, I'd want to use 4x magnification for this application considering I want to preserve as much FOV as possible for the maximum range I specified. I can opt for more magnification, but I'd be unnecessarily sacrificing FOV, especially when 4x gets the job done. It's fairly simple.
Why use lower magnification?
Like I said in the beginning, for defensive use – maintaining the widest possible FOV is critical. Using lower magnification is a compromise in most situations. I give up some zoom, so that I can see more of the environment around the target. After all, most targets will be moving. For .308 rifles and up, the lower magnification is a compromise. For rifles chambered in 7.62x39mm or 5.56 NATO, the lower magnification is not a compromise. These cartridges each have an effective range much shorter than that of higher calibers. While they can still wound or kill a target 1,200 yards away, they were designed for best performance at ranges like 0-300 yards. Considering the range, then taking into account the size of the target they were meant to be used against (humans), you don't need a whole lot of magnification to make it all work. I might be able to see further, but the bottle neck here is the platform.
…but snipers use higher power!
Modern snipers use much higher magnification. A power of 10x is standard. The situation for them is much different than what I've established as my situation. Their goals are to engage targets out to 1,000 yards and sometimes beyond. They are using precision rifles that can be effective at these ranges. They have the skills to shoot, and most of them have excellent vision. More importantly than any of that, is type of shooting they're doing. They are making single shots from long range under deep concealment. Stalking, stealth, concealment are all important to their mission. Having a large FOV is not as important. When they make their shots, they are usually in a good shooting position, resting their rifle on something. They take their time, and make their shot count. This doesn't mean they don't have good situational awareness, because they have a spotter with them.
In my example, one that focuses more on a SHTF situation, dealing with short to medium ranges, targets will not be stationary, the situation calls for more speed. The situation might call for engaging multiple targets, all of which will most likely be moving.
Even though each goal is different, both use optics appropriate in magnification for their individual needs. Someone who hunts tiny varmints at long range certainly needs a higher magnification scope, 12x – 20x. Often, these shooters are using a bench, bipod, or some form of rest. On the other side of the spectrum, big-game hunters opt for lower magnification scopes, 1x – 3x. Their target is large, and the range of engagement is often very close. Dangerous game mandates that you need the ability to acquire your target quickly, or you might end up trampled or eaten. Both big game hunters and varmint hunters use magnifications that correspond with the range of their target, and the size of their target. You can't expect to be able to hit a prairie dog at 250 yards with a 2x scope, and neither should you be able to shoulder a rifle and fire at a charging rhino with a 20x scope at 50 yards. In each instance, you won't be able to acquire your target. The confusion begins when the target is medium sized, like a human. People struggle trying to figure it out. Some folks believe iron-sights are fine, or a 1x red-dot to shoot at a target of that size out to very long ranges, sometimes extreme ranges. Others put 9x or higher power scopes on rifles they consider to be weapons they will use at 200-300 yards. If you think these extremes will work for you, fine, but it doesn't mean they are the most effective choice out there.
POSTED BY HOPLOMAN AT 5:39 PM