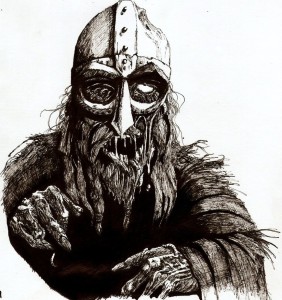 It's no surprise to my friends that I love the topic of zombies, however unlikely a scenario. In the past I've posted a few articles about possible viral outbreaks and good defense ideas, so now I want to delve into history; another passion of mine, and take you to a time when people were more fearful of the dead rising up. It really is only in the last few hundred years that we've lost a real world fear in the dead rising. Some of the archeological excavations below are tied to vampirism; but bear in mind, ancient cultures did not differentiate between the two in the way we've codified them in modern times. I think this division largely started with the book I Am Legend; where we see a clear division between two classes of dead side by side, the mindless and the intelligent. So bearing in mind that all cultures and times had different beliefs in why the dead rose and how intelligent they were, let us continue.
Links that I drew some of this information from are listed below so you can access the original sources.
History teaches us that the idea of zombies as real beings dates back at least as far as the 8th century A.D., and archeologically it made extend as far as the Neolithic (new stone age) era. The actual modern word "zombie" is said to have come from "nzambi," which means "spirit of a dead person" in the Kongo, or the Louisiana/Haitian Creole word "zonbi" that means a person who has died and is then brought back to life devoid of free will or speech. There are strong ties to zombies in Voodoo folklore where priests, or "Bokors," who used black magic to resurrect the dead. We know now that this was largely just an application of the deadly substance of the notoriously poisonous fou-fou, or "porcupine fish," and was largely an act of theatrics causing the appearance of death in the subject; but the legends persist.
Outside of Voodoo, there are many archeological examples of skeletons that have been found with brains removed, decapitated, or unexplainable blunt force trauma to the cranium; I'll share some actual finds below. There is also possible evidence of victims. We know that cannibalism has been practiced by many cultures in history, where the flesh has been removed with knives and other tools in preparation of human consumption; but what about the skeletons that show obvious teach marks, and flesh being eaten raw and unprepared? Ritualistic cannibalism does not typically show signs of teeth marks despite bones being cracked and broken to get at not just the meat but even the marrow.
Some people have gone so far as to speculate that the Mayans, who violently and suddenly disappeared, were in fact destroyed by zombies. The widespread reports of cannibalism at the end of the Mayan civilization suggests something more sinister than drought or tribal disputes. Bones found in and around Mayan cities show signs of being violently ripped from their sockets, and chewed to bits on the spot. Evidence has even been found of children eating their parents, and entire villages devouring themselves within a matter of days.
Found in Syria, evidence suggests that the Stone Age heads were originally buried with their bodies intact, but then after several years they were dug up and their skulls were crushed and separated from the rest of the skeleton. No one knows why the face-smashing and careful removal of the heads took place. Some say it could have been because the people of the area were trying to prevent the dead from coming back to life.
Even the common place act of putting gravestones on top of had apparently come from the fear that the dead might come back to life. It started by placing rocks over a fresh graves, keeping the dead from coming back out of the ground. How many culture permeated the use of stone cairns over grave sites?   While most cultures have practiced this at one time or another, and most were simply a method of marking the dead for remembrance, where and why might some cultures have started this practice going back into pre-history?
One of my favorite possible reference to zombies comes straight out of the Bible. Zechariah 14:12 states "And this shall be the plague with which the Lord will strike all the peoples that wage war against Jerusalem: their flesh will rot while they are still standing on their feet, their eyes will rot in their sockets, and their tongues will rot in their mouths." Or Revelation 9:6 "And in those days people will seek death and will not find it. They will long to die, but death will flee from them." I love these because they are not the warm fuzzy verses about resurrection where the righteous are made happy and whole.
I also enjoy reading about the draugr of draugar. Draugar possess superhuman strength and carry the unmistakable stench of decay. "The appearance of a draugr was that of a dead body: swollen, blackened and generally hideous to look at." They are undead figures from Norse and Icelandic mythology that appear to retain some semblance of intelligence. They exist either to guard their treasure, wreak havoc on living beings, or torment those who had wronged them in life. The draugr's often increase in size and weight, and the body of the draugr was described as being extremely heavy. Thorolf of Eyrbyggja saga was "uncorrupted, and with an ugly look about him… swollen to the size of an ox," and his body was so heavy that it could not be raised without levers. In folklore, draugar slay their victims through various methods including crushing them with their enlarged forms, devouring their flesh, devouring them whole in their enlarged forms, indirectly killing them by driving them mad, and by drinking their blood. The draugr's victims were not limited to trespassers in its howe. The roaming undead decimated livestock by running the animals to death by pursuing them in some hideous, half-flayed form. Shepherds, whose duties to their flocks left them out of doors at night time, were also particular targets for the hunger and hatred of the undead. Could the growth in size and weight be a reference to the draugr consuming the living but not retaining functional bodily movements and the general bloating of a dead body?
The archeological digs below are often affiliated with vampires, but the skeletal evidence reveals anatomically normal humans. So taking aware the modern fangs of vampire folklore who related were the original vampires to the concept of traditional zombies? A vampire is a mythical being who subsists by feeding on the life essence (generally in the form of blood) of living creatures. In folkloric tales, undead vampires often visited loved ones and caused mischief or deaths in the neighborhoods they inhabited when they were alive. They wore shrouds and were often described as bloated and of ruddy or dark countenance, markedly different from today's gaunt, pale vampire which dates from the early 19th century. So when they say "vampire" on an archeological site, instead of modern concepts, picture instead a bloated rotting body devouring the living in their local communities. Many of these graves are now referred to as deviant burials, because they defy traditions of the era and often have no logical explanation and often reveal someone who suffered an unusual or violent death.
A number of treatments found in early medieval Ireland which could indicate deviance, including prone burials, decapitations, isolated burials or burials in unusual places, amputations, and stones placed on a grave or body. Removal of the head or another body part was believed to prevent the individual from rising on Judgment Day, and therefore removing the individual from those who will be saved. The removal of body parts can be seen as part of an execution or crime, with the loss relating to the crime committed such as thieves losing their hands. Stones can be found around the head of an individual, and are an indication of penance according to texts. However, placement of a large number of stones within the grave could be a sign of punishment or fear- a way to prevent the dead from rising or haunting. The placement of a rock within the mouth has often been linked to vampires or zombies, and was common during the 8th century in Ireland. Face down or prone burials are often interpreted as negative since the face is directly in the earth. The soul of the individual would be prevented from rising on Judgment Day, trapped within the body. Or maybe they figured a body buried face down cannot physically dig its way out of the ground.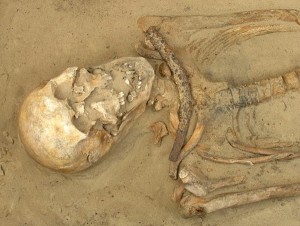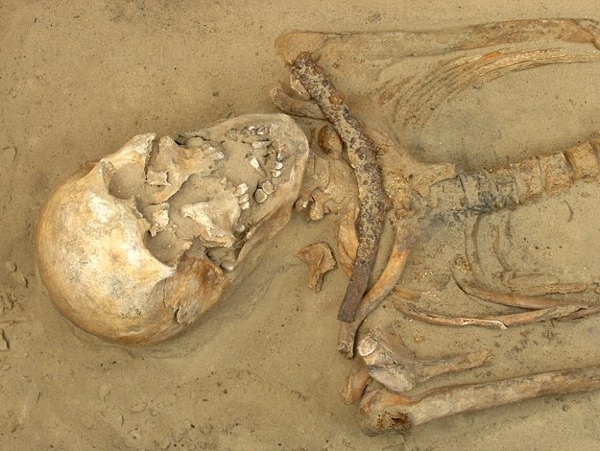 In 2009, at Drawsko in Poland, an archaeological investigation of a medieval cemetery turned up something quite unexpected. Three graves were discovered in which the bodies had been subjected to very unusual treatment post-mortem. Two bodies of middle-aged adults had iron sickles placed on their throats. The body of a younger adult had been tied up and had a heavy stone placed upon his throat. This is in keeping with folklore, traditionally sharp iron implements being held to be anathema to the undead, hence the placement of the sickles as a measure to ensure that the alleged undead would not rise again. Another method of keeping a suspected undead in their grave was believed to be the placement of heavy weights upon the body, and the positioning of heavy stones upon bodies has been found in a number of burials. The cemetery has not been fully excavated and archaeologists expect to find similar burials in future years.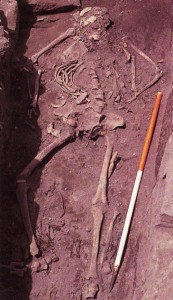 In 1994, on the Greek island of Lesbos, near the city of Mytilene, archaeologists investigating an old Turkish cemetery found a medieval skeleton buried in a crypt hollowed out of an ancient city wall. This was not an unusual discovery, however, the post-mortem treatment of this body was very much unexpected. The corpse had been literally nailed down in its grave, with heavy iron spikes driven through the neck, pelvis and ankle. The use of iron and the practice of staking down a corpse are both well-attested in vampire (undead) folklore.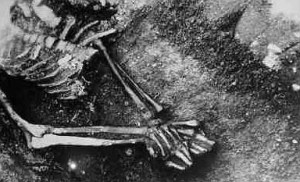 In the early 1990s, archaeologists found what is believed to be the first vampires' (undead) graveyard—an entire cemetery of vampire burials. In Celakovice, about 30 kilometers north of Prague, 14 graves have been excavated so far with metal spikes driven through their bodies or heavy stones placed upon them. The graves are believed to date from the 11th or 12th century. Most of the victims were young adults, of both sexes. It appears that the victims all died at around the same time, possibly in an epidemic, but it is unclear why the villagers thought these individuals were at risk of becoming vampires (zombies?).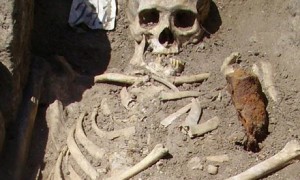 One of the most well publicized cases of recent years, as a Google search will quickly show. Bulgaria is no stranger to vampire burials. More than 100 have been discovered in the past century, but the bulk of those were in remote rural areas. Sozopol is one of Bulgaria's most popular Black Sea tourist resorts, so the discovery of two skeletons with iron spikes jammed through their bodies caused a sensation. The bodies are believed to about 700 years old, and were located buried near a former monastery. Archaeologists have confirmed that this practice was common in Bulgaria up until the 20th century, and Bulgaria subsequently has become the center of interest for those studying vampire (undead) burials.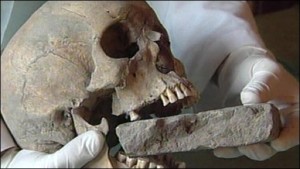 As has already been noted, the discovery of vampire (undead) burials has been common in the Balkans and Eastern Europe, the heartland of vampire mythology. However, until recently, they were unknown in Western Europe. This is now changing, as archaeological examination of medieval cemeteries in the West is starting to reveal that people here were just as afraid of the dead returning to plague the living. A well-publicized discovery in 2006 on the island of Lazaretto Nuovo near Venice confirmed that Italy had its own undead burials. The skeleton of a woman dating from the 16th century was discovered in a cemetery of plague victims. She had had a large brick rammed into her mouth prior to burial. This is in keeping with medieval folklore, which held that vampires (the undead) literally chewed their way out of their burial shrouds, so preventing them from doing this was seen as an effective way of stopping them rising from the grave.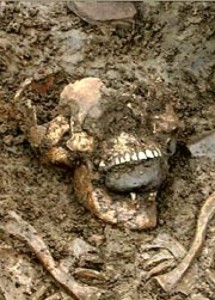 The vampire burial phenomenon struck even deeper into the West with the discovery of two skeletons at Kilteasheen in Ireland between 2005 and 2009. Officially described as "deviant" burials, the skeletons of a middle-aged man and a man in his twenties were discovered lying side by side with rocks rammed into their mouths. The discovery caused a sensation in Ireland and the UK and became the subject of a TV documentary released in 2011. It has been argued that the victims may have been considered plague-carriers rather than true vampires, because their early burial in the 8th century predates vampire legends in Europe, however, the vampire burial tag has since well and truly stuck in the public consciousness.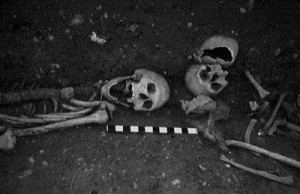 If complacent Britons had thought their ancestors were far too sophisticated to be taken in by undead legends as primitive peasants in Eastern Europe had been, they were in for a shock. It was revealed in 2010 that a deviant burial had been found in the Nottinghamshire town of Southwell in 1959, attracting much publicity in the British media. A long-lost archaeological report compiled during construction of a new school detailed the discovery of a skeleton dating from between A.D. 550 and 700 with metal spikes jammed through heart, shoulders and ankles. The placement of a spike through the heart in particular attracted public interest because of its long association with vampires in myth and legend. Archaeologists have in fact thrown cold water over the idea the man was considered a vampire because the burial predates vampire legend in Europe, but the idea has seized the public imagination and inspired new research into vampirism in Britain.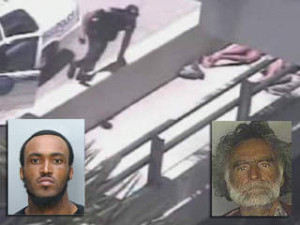 One intriguing modern incident is that of Rudy Eugene who attached a homeless man. The Miami cannibal attack occurred on May 26, 2012, when Rudy Eugene assaulted Ronald Poppo, a homeless man, on the MacArthur Causeway in Miami, Florida. Eugene (who was himself stripped nude) beat Poppo unconscious, removed Poppo's pants, and bit off most of Poppo's face above the beard, including his left eye, leaving him blind in both. As a result of the incident's shocking nature and subsequent worldwide media coverage, Eugene came to be dubbed the "Miami Zombie" as well as the "Causeway Cannibal". The attack ended when Eugene was fatally shot by a Miami police officer. A passing cyclist, Larry Vega, came upon the scene and alerted authorities via 9-1-1. A few minutes later, Miami Police Department officer Jose Ramirez arrived and, after doing a double take at the spectacle, warned Eugene to desist from attacking Poppo. Eugene ignored the officer's warnings and, instead, reportedly growled at him, then resumed biting his victim. The attack ended at 2:13 PM with Officer Ramirez shooting Eugene once at first and then another four times when that proved ineffective. While police sources speculated that the use of a street drug like "bath salts" might have been a factor, experts have expressed doubt toward this speculation as toxicology reports were only able to identify marijuana in his system, leaving the ultimate cause of Eugene's behavior to remain unknown. As a result of media attention, the Centers for Disease Control and Prevention released a statement saying that the "CDC does not know of a virus or condition that would reanimate the dead (or one that would present on drugs symptoms)."
What do you think?
Jon
http://listverse.com/2013/04/04/8-recently-discovered-medieval-vampire-burials/
http://anthropology.msu.edu/anp264-ss13/2013/04/25/history-of-zombies/
https://en.wikipedia.org/wiki/Vampire
https://bonesdontlie.wordpress.com/2012/09/25/deviant-burials-in-early-medieval-ireland/
https://en.wikipedia.org/wiki/Miami_cannibal_attack