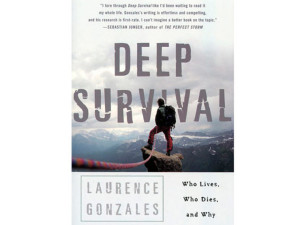 This book left me absolutely astounded. This is not a piece of literature that will explain bullet calibers, how to pack a bug out bag, or what plants are edible; but instead delves deeply into psychology, theory, and statistics; among other things. Regardless of preparation, or the lack there of, what are the characteristics of survivors and how can we harness these qualities?
From Publishers Weekly
When confronted with a life-threatening situation, 90% of people freeze or panic, says Gonzales in this exploration of what makes the remaining 10% stay cool, focused and alive. Gonzales (The Hero's Apprentice; The Still Point), who has covered survival stories for National Geographic Explorer, Outside and Men's Journal, uncovers the biological and psychological reasons people risk their lives and why some are better at it than others. In the first part of the book, the author talks to dozens of thrill-seekers-mountain climbers, sailors, jet pilots-and they all say the same thing: danger is a great rush. "Fear can be fun," Gonzales writes. "It can make you feel more alive, because it is an integral part of saving your own life." Pinpointing why and how those 10% survive is another story. "They are the ones who can perceive their situation clearly; they can plan and take correct action," Gonzales explains. Survivors, whether they're jet pilots landing on the deck of an aircraft carrier or boatbuilders adrift on a raft in the middle of the Atlantic Ocean, share certain traits: training, experience, stoicism and a capacity for their logical neocortex (the brain's thinking part) to override the primitive amygdala portion of their brains. Although there's no surefire way to become a survivor, Gonzales does share some rules for adventure gleaned from the survivors themselves: stay calm, be decisive and don't give up. Remembering these rules when crisis strikes may be tough, but Gonzales's vivid descriptions of life in the balance will stay with readers.
Copyright 2003 Reed Business Information, Inc.
If you have read it, Deep Survival is very much in character of The Survivors Club; while focusing much more on the functions of the brain and our raw subconscious instincts.
From Booklist
What impels people to risk their lives by climbing mountains or deep-sea diving? What confluence of forces leads to drastic accidents? Why do some people survive disasters while others perish? A renowned journalist intrigued with risk, Gonzales conducts an in-depth and engrossing inquiry into the dynamics of survival. Relating one hair-raising true story after another about wilderness adventures gone catastrophically wrong and other calamities, Gonzales draws on sources as diverse and compelling as the Stoic philosophers and neuroscience to elucidate the psychological, physiological, and spiritual strengths that enable certain individuals to avoid fatal panic and make that crucial "transition from victim to survivor." People who survive being lost or adrift at sea, for instance, pay close attention to their surroundings and respect the wild. Gonzales also notes that survivors think of others, either helping a fellow sufferer or rallying to outsmart death in order to spare loved ones anguish. The study of survival offers an illuminating portal into the human psyche, and Gonzales, knowledgeable and passionate, is a compelling and trustworthy guide. Donna Seaman
Copyright © American Library Association. All rights reserved
Pick this book up, read it with a highlighter, and I promise you will not be disappointed.
Jon