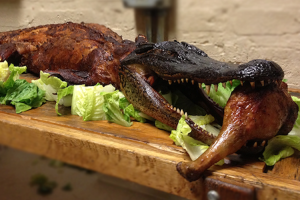 My first exposure to eating reptiles occurred in the Philippines where I lived for two years in a primarily rural region. The taste of the different types of lizards was great, and when cooked right, the meat is nice and flaky.
Reptiles are tetrapod vertebrates, creatures that either have four limbs or, like snakes, are descended from four-limbed ancestors. Unlike amphibians, reptiles do not have an aquatic larval stage. Reptiles are a group (Reptilia) of animals comprising today's turtles, crocodilians, snakes, lizards, tuatara, and their extinct relatives. Modern reptiles inhabit every continent with the exception of Antarctica. Several living subgroups are recognized:
Testudines (turtles, terrapins and tortoises): approximately 400 species
Sphenodontia (tuatara from New Zealand): 2 species
Squamata (lizards, snakes, and worm lizards): over 9,600 species
Crocodilia (crocodiles, gavials, caimans, and alligators): 25 species
Terrapins, snakes, lizards, crocodiles and iguanas are now farmed and the consumption and trade of their meat and other edible products have recently increased in some areas of the world.
The consumption of a wide variety of species of reptiles caught from the wild has been an important source of protein for humans world-wide for millennia, especially turtles. According to the U.S. Army Survival Manual, all reptiles are edible, and small lizards can be eaten hole. That being said Handle them like raw chicken and cook them thoroughly, as well as thoroughly cleaning your hands.
Some reptiles, most notably various snakes, have venoms or poisons (there is a difference); but if you read my article about eating venomous snakes you will find that it is easy to avoid contaminating your meat. http://prepare-and-protect.net/2014/05/eating-poisonous-snakes/
Reptile eggs are also edible for humans. Turtle and crocodile eggs are the most common eaten by people. Most reptile eggs have a leather type shell and not a hard shell like birds. Fertilized or unfertilized, the eggs are edible and best gathered soon after being laid and stored where they will not continue to develop. While full size reptiles are easy to identify; gather a little knowledge on reptile egg identification in your area before you go stuffing unidentified eggs you find into your mouth; and again, cook thoroughly.
Biological risks associated with the consumption of products from both farmed and wild reptile meat and eggs include infections caused by bacteria (Salmonella spp., Vibrio spp.), parasites (Spirometra, Trichinella, Gnathostoma, pentastomids), as well as intoxications by biotoxins. For crocodiles, Salmonella spp. constitute a significant public health risk due to the high intestinal carrier rate which is reflected in an equally high contamination rate in their fresh and frozen meat. There is a lack of information about the presence of Salmonella spp. in meat from other edible reptilians, though captive reptiles used as pets (lizards or turtles) are frequently carriers of these bacteria in Europe.
Parasitic protozoa in reptiles represent a negligible risk for public health compared to parasitic metazoans, of which trichinellosis, pentastomiasis, gnathostomiasis and sparganosis can be acquired through consumption of contaminated crocodile, monitor lizard, turtle and snake meat, respectively. Other reptiles, although found to harbor the above parasites, have not been implicated with their transmission to humans. Freezing treatment inactivates Spirometra and Trichinella in crocodile meat, while the effectiveness of freezing of other reptilian meat is unknown.
Biotoxins that accumulate in the flesh of sea turtles may cause chelonitoxism, a type of food poisoning with a high mortality rate in humans.
Infections by fungi, including yeasts, and viruses widely occur in reptiles but have not been linked to a human health risk through the contamination of their meat.
In short, they are edible, but again, treat the meat the way you would poultry in both storage and cooking procedures.
Jon
http://www.ncbi.nlm.nih.gov/pubmed/19679367
https://en.wikipedia.org/wiki/Reptile